Reporting on performance and valuations
Providing your client with a detailed valuation or performance report should be a simple process. Fastrak can deliver 2 types of report for you:
Investment Performance report
This report allows you to show clients how well (or not) their portfolios have done over several date ranges. The level of detail you show is entirely up to you
View sample report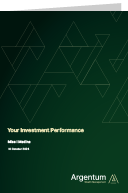 Snapshot Valuation
This report will take no longer that 2 minutes to produce and enables you to give clients an updated valuation on an ad-hoc basis or regularly.
View sample report